This month I'm going to set up an ambitious TBR for myself for no reason at all.
I have a couple review books I want to read this month and some books I feel it's time for me to read. Since this tbr comes a bit late and I have already finished 3 books I won't include those here. I will talk about them in my Wrap Up.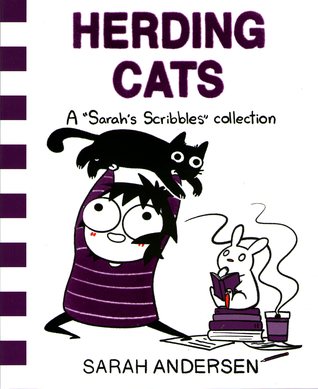 ➤
The Measurements of Decay by K.K. Edin
- I got this book through Netgalley and I'm really excited to read it. This is a Sci-Fi novel set in space since the earth's nearby systems have been colonized. I don't know much else and I want to go into it now knowing too much.
➤
The 7 ¹/₂ Deaths of Evelyn Hardcastle by Stuart Turton
- I also got this book through Netgalley. The only thing I know about this is that someone keeps waking up in some else's body and they get to relive the same day over and over again. And they are also trying to solve a murder. Sounds cool to me.
➤
Herding Cats by Sarah Andersen
- I have read the past two books in this series and I have enjoy them immensely, so I thought to continue with it this month.
➤
Percy Jackson and The Lightning Thief by Rick Riordan
- Yes I have never finished this series... I have been meaning to do it for years but never got around to do it. I have read the first 2 books in this series before but I think I need a refresh before I continue so I'm going to reread them. Hopefully I'll enjoy them.
➤
Pet Sematary by Stephen King
- I recently acquired this book and it sounds great. Also I'm trying to read a lot of his work so I need to get going with his books. The only thing I know about this book is that it involves animals and death and possibly animal zombies? Maybe? So yeah I'm in.
What are your book choices for the month of April?