Even though my to be read list is quite big I really still want to reread some of my favorite books, because what is the point in owning them if I'm only reading them once in my lifetime?
By the way some of these books I only gave 4 stars, but they still hold a special place in my heart or I find myself missing the characters.
So here's the books I hope to reread this year: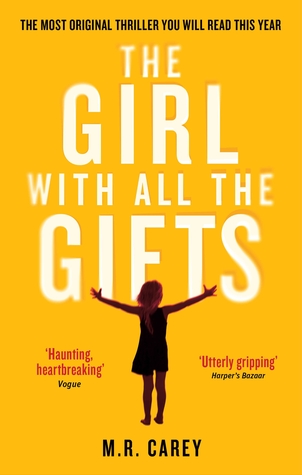 ➧
The Girl With All The Gifts
- I remember reading this, still. I had such a good feeling while reading it even though it was not a happy book. Since recently this became a series I want to reread this one to see if I still keep my 4 star rating or if that will change. I also recently saw the movie and I liked it but it felt diferent from the book. We shall see how I feel about this.
➧
The Perks of Being a Wallflower
- To be honest I just want to reread this because I cannot remember anything about it and I have the book all tabed up which is weird for something I don't remember right?
➧
The Book of Lost Things
- I remember absolutely loving this book. It made me cry and feel like it wasn't fair that a book could not end happily. I don't remember much of the story but I want to reread it so badly even if it makes me cry all over again.
➧
The Gates
- this book is by the same author as the last one and I guess now I have to read more of his books? But we'll leave that to another post. I loved loved this book! I don't think a book has ever made me laugh so hard as this one. Actually the whole trilogy is hilarious! I can't wait to reread this one.
➧
Illuminae
- Well I still haven't read Gemina. Why? Because I'm scared I'll love it too and then I'll have to wait for Obsidio. But since the release date of Obsidio is approaching fast, I guess I can reread this one, which I gave 5 stars, and also read Gemina and hopefully love it as much as I think I'll love it.
What books do you plan to reread this year?