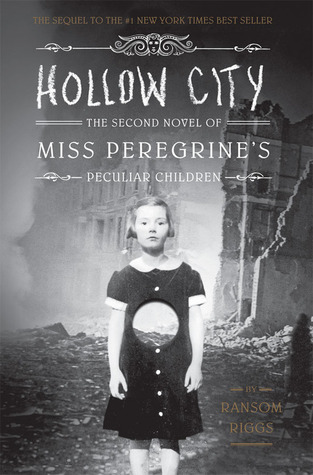 Source: Goodreads
Title:
Hollow City
Author:
Ransom Riggs
Series:
Miss Peregrine's Home for Peculiar Children
Book #:
2
Publisher:
Quirk Books
My Rating:
Miss Peregrine's Home for Peculiar Children was the surprise best seller of 2011—an unprecedented mix of YA fantasy and vintage photography that enthralled readers and critics alike. Publishers Weekly called it "an enjoyable, eccentric read, distinguished by well-developed characters, a believable Welsh setting, and some very creepy monsters."
This second novel begins in 1940, immediately after the first book ended. Having escaped Miss Peregrine's island by the skin of their teeth, Jacob and his new friends must journey to London, the peculiar capital of the world. Along the way, they encounter new allies, a menagerie of peculiar animals, and other unexpected surprises.
Complete with dozens of newly discovered (and thoroughly mesmerizing) vintage photographs, this new adventure will delight readers of all ages.
So I have a problem with this book... Actually it's not really a problem I just think this book suffers from middle book syndrome.
As I read Hollow City, I kept thinking that it was so repetitive, in the sense that the kids got into trouble and then managed to get free. It felt like it was all that happened in this book. And when it got good it ended. Nothing was really resolved in this installment and that was a shame. Also I missed Jacob's wit and that really made a different in the tone of the book. It made the book seemed so dark and even though it made sense with all the drama, I didn't find the first book or the third to be this way, and they both had plenty of drama in them.
There were positives though. I absolutely loved the characters, as always. The orphans are all so sweet and brave and they met some new people in this instalment, that completely melted my heart. I also adored the inclusion of the tales, because they interwined so well with the main plot and also was a clever way to later on come up with a book called "Tales of the Peculiar", I see what you did there Mr. Riggs.
The photos, oh my God the photos. I loved them! They bring this eerie vibe to the book that I absolutely loved.
All in all it was an ok read, but not as good as the first book in the series.