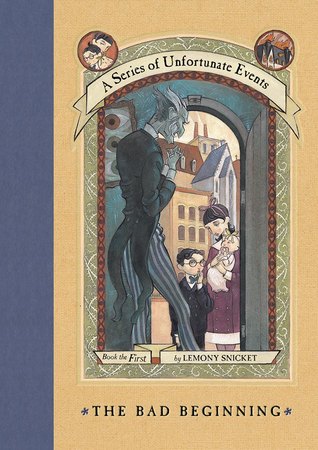 Source: Goodreads
Title:
The Bad Beginning
Series:
A Series of Unfortunate Events
Author:
Lemony Snicket
Publisher:
Scholastic, Inc
My Rating:
Dear Reader,
I'm sorry to say that the book you are holding in your hands is extremely unpleasant. It tells an unhappy tale about three very unlucky children. Even though they are charming and clever, the Baudelaire siblings lead lives filled with misery and woe. From the very first page of this book when the children are at the beach and receive terrible news, continuing on through the entire story, disaster lurks at their heels. One might say they are magnets for misfortune.
In this short book alone, the three youngsters encounter a greedy and repulsive villain, itchy clothing, a disastrous fire, a plot to steal their fortune, and cold porridge for breakfast.
It is my sad duty to write down these unpleasant tales, but there is nothing stopping you from putting this book down at once and reading something happy, if you prefer that sort of thing.
With all due respect,
Lemony Snicket
I was totally caught by surprise with this book. I saw the movie when I was younger but geez I think I made up an entire new story growing up ahah I somehow thought that Lemony was a good guy just playing bad...
The plot isn't anything new but it was well written. even though I found it a little condescending with the wording, but I kept telling myself that this was middle grade and the author was trying to introduce new words and define them.
Let's talk characters:
Count Olaf:
He's awful! Jesus, such a mean character to have in a middle grade book and I loved him. He didn't care if they were kids or not, they were his slaves pretty much.
Klaus Baudelaire:
Such a smart kid I identified myself with him the most. He loved books and knowledge and I loved that.
Sunny Baudelaire:
she just loves biting stuff that's pretty much it ahah
Violet Baudelaire:
The oldest and the most responsible. She feels the need to look out for her siblings and she'll do anything to do it. Sweet, kind and she's pretty much an engineer.
All in all I really liked reading this book. It was a quick read and it was really cute, well actually it was really sad but still cute I guess? I don't know how to describe it ahah I think the rest of the series will be amazing. We shall see...
I would recommend it to anyone who's in for an "out of the box" kind of middle grade.