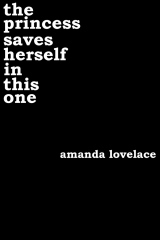 Source: Goodreads
Title:
The Princess Saves Herself In This One
Author:
Amanda Lovelace
Publisher:
CreateSpace
My Rating:
"Ah, life- the thing that happens to us while we're off somewhere else blowing on dandelions & wishing ourselves into the pages of our favorite fairy tales."
A poetry collection divided into four different parts: the princess, the damsel, the queen, & you. the princess, the damsel, & the queen piece together the life of the author in three stages, while you serves as a note to the reader & all of humankind.
Explores life & all of its love, loss, grief, healing, empowerment, & inspirations.
Oh Amanda, you broke so many times while I was reading this but thankfuly you have stitched me back together. You still left some cracks though...
This book was amazing. I don't usually read poetry but this book was so talked about that I had to get my hands on it. It did not disappoint.
Amanda Lovelace has such a fantastic way to write that through her poetry you feel like you have experienced every emotion she had while she was writing it.
She throws little snipets that she was a bookworn and I loved that because I could identify with some of the things she wrote about loving books.
After I finished reading this poetry collection I just wanted to hug Amanda so hard... Have you ever had that feeling?
I would recommend this book to anyone who enjoys poetry or simply wants to try it.