I first saw this post on
Novellique
's blog and I thought I would do it because it sounded fun. You are all tagged to do it, if you feel like it.
1.
APPLE PICKING:
a book on your tbr list that looks so good you can't wait to take a bite out of it.
Source: Goodreads




That would be

Gemina

by Amy Kaufman and Jay Kristoff unfortunately it will have to wait a bit longer because I cannot buy it at the moment.





2.

CORN MAZE:

a book that is fun to get lost in.




That would be any good fantasy or even horror book. Those for me are the most amazing books to just completely forget about reality.





3.

HAUNTED HOUSE:

a book that scares you silly.




4.

PUMPKIN PATCH:

last book you picked up/purchased.
Source: Goodreads




The last book I bought was "

The Leaving

" by Tara Altebrando.





5.

SCENIC DRIVES:

a book that is lyrically beautiful.




Honestly I haven't found a book that I have literally fell for the writing alone.






6.

PUMPKIN CARVING:

a book you didn't enjoy much and you wouldn't mind carving up.




I wouldn't carve this book up, because I don't like damaging books and also because the cover is so gorgeous I can't imagine messing it up. It's "

White Space

" by Ilsa J. Bick.

7.

DRINK APPLE CIDER:

a book to curl up under the covers with.


I think any good Fantasy/Dystopian/Thriller or a Harry Potter book would be good for this.





8.

JUMPING IN A PILE OF LEAVES:

a book that reminds you of your childhood.


This was probably one of the first books my mom ever bought me and I remember it so well. I still have it and cherish it so much. I just love the feeling it gives me when I look at it. it's "

The Princess and the Goblin

" by George MacDonald.





9.

SCARY MOVIE NIGHT:

favorite spooky read.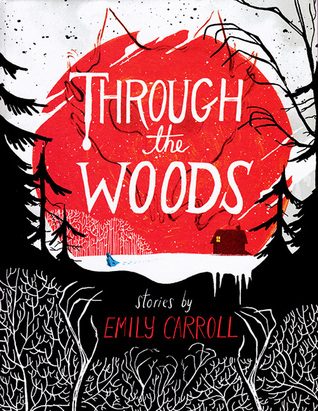 Source: Goodreads
I think for this one I will choose "
Through the Woods
" by Emily Carroll because it was creepy as hell, the endings were sometimes open in the sense that it didn't bring closure and also the illustrations were spooky. Perfect read for a stormy night.