Top 5 Wednesday is a weekly meme created by Lainey over at
GingerReadsLainey
on Youtube. This meme has you pick up your top 5 for a certain theme.
This week's top 5 is:
Top 5 Rainy Day Reads
For rainy days, I usually prefer to read dark/post apocaliptic books, since they seem to fit the wheather just fine, plus rain makes everything more immersing.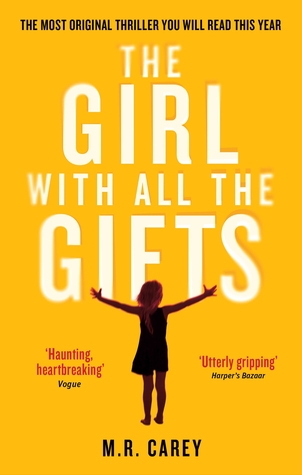 The Girl With All the Gifts
by
M.R. Carey
This book has such a dark vibe to it that I couldn't imagine reading in any other setting than one with rain in.
Yes this is a zombie book but I promise you it is nothing like what you have read before. This book is moving, stressful, sweet and even scary at times.
And there's a movie coming out soon.
The Unbecoming of Mara Dyer
by
Michelle Hodkin
This book is just plain bizarre.
"Mara Dyer wakes from a coma in hospital with no memory of how she got there or of the bizarre accident that caused the deaths of her best friends and her boyfriend, yet left her mysteriously unharmed."
Tell me does this get you interested or not? It got me. To be fair this book is not my favorite in this series (so far I prefer the second one) and there's mixed feelings about it in the book reviewing world. This being said I am an apologist of making your own opinion and you should just give it a try.
And being a weird book it demands to be read in a rainy day.
Forgive me, Leonard Peacock
by
Matthew Quick
Trigger Warning:
This book discusses suicide.
This book broke me in ways I didn't know possible... but it also made me feel like I was not alone. Leonard is such a loving character and you can't help but try to justify everything he does even if you know it's wrong.
Reading this book on a rainy day with a cup of hot chocolate sounds like a very perfect day to me.
Monument 14
by
Emmy Laybourne
A bunch of kids are being little brats while on the way to school and then all hell breaks loose. This book was constructed to be a movie I have no doubts on it and I'm quite sure the last I checked it out someone was trying to make it so.
Monument 14 is packed with action from beginning to end and it all revolves around kids, and if I am not wrong - since I read this book a while back - their ages go from 15/16 to 5/6 years old. So how do you deal with the end of the world when your a child?
Wait for a rainy day, get cozy and start reading because there's no better way to read it (I have in fact read this on a rainy day, I regret nothing).
Harry Potter and the Deathly Hallows
by
J.K. Rowling
This should come as no surprise to you. There's nothing better than reading a Harry Potter book with some hot chocolate or tead while you listen to rain pouring outside.
The reason I chose the 7th book is because this is where everything comes to and end, all the feelings come rushing to you at once and your insides can match the outside of your window where is dark and cold... I am serious this book killed me, I spent like a hour crying my eyes out.
So yeah best one to read on a rainy day.
Happy Readings!