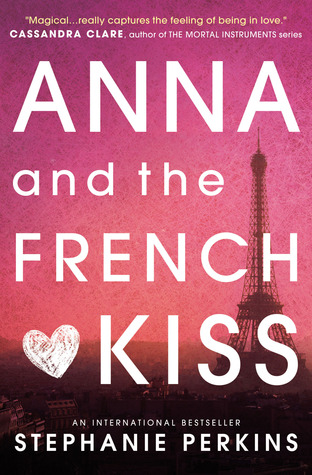 Title:
Anna and the French Kiss
Author:
Stephanie Perkins
Series:
Anna and the French Kiss #1
Publisher:
Usborne Publishing
My Rating:
Anna has everything figured out - she was about to start senior year with her best friend, she had a great weekend job, and her huge work crush looked as if it might finally be going somewhere... Until her dad decides to send her 4383 miles away to Paris. On her own.
But despite not speaking a word of French, Anna finds herself making new friends, including Etienne, the smart, beautiful boy from the floor above. But he's taken – and Anna might be too. Will a year of romantic near-missed end with the French kiss she's been waiting for?
What a cute fluffy read!
This was exactly what I needed since I could sense a minor Book slump coming.
Anna and the french read is a ya contemporary with a commom setting: high school. But don't let that turn you off, it comes with a minor twist that actually makes the difference. It is set in Paris.
Believe it or not the setting made all the difference for me. I do not believe I would have enjoyed this as much if it was set anywhere else. And yeah I know what a cliche a love story set on the city of love. But trust me it was good.
The characters are all interesting in their own way, and I seemed to like all of them, even the truly annoying ones because they added to the plot. True friendship is explored, relationships, heartbreak, life changing decisions, loneliness, it covers everything I want to read in a fluffy book.
Etienne was such a fun and also funny guy! Even though I don't agree with some choices he made through out the book, I can still like him. Anna was lovely, the typical "lonely girl who has never had a boyfried" kind of character, but it fitted with the story so I won't argue with that.
I also absolutely adored Etienne's friends! They added so much to the story, and also the portrayed what a real friendship should be (in most cases).
The writing was phenomenal. It was so easy to understand that I basically flew through the book.
I really don't know what else to say about it. It was cute, and funny and sweet and fluffy and you should read it. That's it.