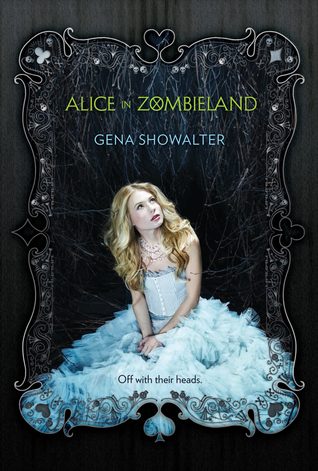 Title:
Alice in Zombieland
Author:
Gena Showalter
Series:
White Rabbit Chronicles
Book #: 1
Publisher: Harlequin Teen
Release Date: September 25rd 2012


My Rating:
She won't rest until she's sent every walking corpse back to its grave.
Forever.
Had anyone told Alice Bell that her entire life would change course between one heartbeat and the next, she would have laughed. But that's all it took. One heartbeat. A blink, a breath, a second, and everything she knew and loved was gone.
Her father was right. The monsters are real.
To avenge her family, Ali must learn to fight the undead. To survive, she must learn to trust the baddest of the bad boys, Cole Holland. But Cole has secrets of his own, and if Ali isn't careful, those secrets might just prove to be more dangerous than the zombies.
My Thoughts
First of all I must say something. How is this a retelling?
That being said I did enjoy this book, the plot and concept were quite interesting and new - with the soul leaving the body in order to fight zombies.
There were some twists in this book that left me like "Where did that come from?" and "How the hell did I not see that coming?" and I absolutely loved that. Surprise is always good in zombie books... In my opinion.
Alice grew from slightly weak to I'll kick any zombie ass quite fast which was nice to see, though I don't really approve of her romance, but then again I am not her mother ahah
I felt terribly sorry for her since she lost so much in so little time but the way she reacted to that along with new information such as "there are freaking zombies" and "you may end up losing people sooner than you think" was admirable.
One of the main reasons that made me give it 3 stars only was mostly because I was expecting a retelling with a zombie twist and it did not happen. Still I will finish this trilogy because I did end up liking it despite this fact.