This month I decided that I was going to read 4 books. One that I started last year and some books that I have either received has christmas gifts or that have been sitting on my shelves for a while. They are:
Todd Hewitt is the only boy in a town of men. Ever since the settlers were infected with the Noise germ, Todd can hear everything the men think, and they hear everything he thinks. Todd is just a month away from becoming a man, but in the midst of the cacophony, he knows that the town is hiding something from him -- something so awful Todd is forced to flee with only his dog, whose simple, loyal voice he hears too.
With hostile men from the town in pursuit, the two stumble upon a strange and eerily silent creature: a girl. Who is she? Why wasn't she killed by the germ like all the females on New World?
Propelled by Todd's gritty narration, readers are in for a white-knuckle journey in which a boy on the cusp of manhood must unlearn everything he knows in order to figure out who he truly is.
When a letter arrives for unhappy but ordinary Harry Potter, a decade-old secret is revealed to him that apparently he's the last to know.
His parents were wizards, killed by a Dark Lord's curse when Harry was just a baby, and which he somehow survived. Leaving his unsympathetic aunt and uncle for Hogwarts, a wizarding school brimming with ghosts and enchantments,
Harry stumbles upon a sinister mystery when he finds a three-headed dog guarding a room on the third floor. Then he hears of a missing stone with astonishing powers which could be valuable, dangerous – or both. An incredible adventure is about to begin!
Jeremy Johnson Johnson hears voices. Or, specifically, one voice: the ghost of Jacob Grimm, one half of The Brothers Grimm.
Jacob watches over Jeremy, protecting him from an unknown dark evil whispered about in the space between this world and the next. But Jacob can't protect Jeremy from everything. When coltish, copper-haired Ginger Boultinghouse takes a bite of a cake so delicious it's rumored to be bewitched, she falls in love with the first person she sees: Jeremy.
In any other place, this would be a turn for the better for Jeremy, but not in Never Better, where the Finder of Occasions—whose identity and evil intentions nobody knows—is watching and waiting, waiting and watching. . . And as anyone familiar with the Brothers Grimm know, not all fairy tales have happy endings.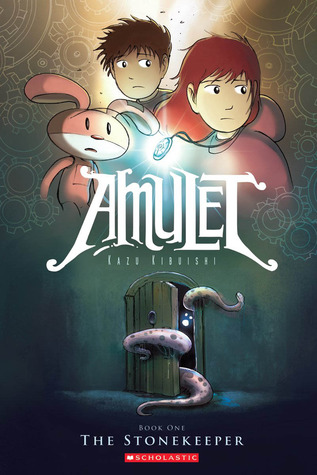 THERE'S SOMETHING STRANGE BEHIND THE BASEMENT DOOR...
After a family tragedy, Emily, Navin and their mother move to an ancestral home to start a new life. On the family's very first night in the mysterious house, Em and Navin's mom is kidnapped by a tentacled creature.
Now it's up to Em and Navin to figure out how to set things right and save their mother's life!